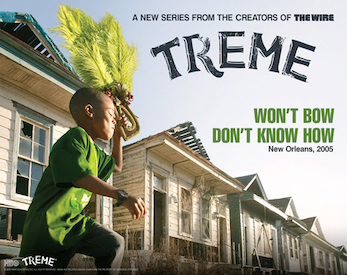 To date, one of the most widely-read articles I've written for this blog was a curated list of podcasts. So here I am again with some off-topic pop culture. And this time I'm not even going to pretend it has anything to do with developer relations. That said, the tech world can be relentless, and we all need some escapism from time to time. While writing this article, I'd forgotten that I'd previously written a similar article for an earlier version of this website. So if it feels a little disjointed, that's because I'm incorporating the parts of that article that are still relevant.
"To say something intricate about something as disorganized, confused, and interconnected as an American city, you want to stay for the whole season on a single story."—David Simon
I'm passionate about television. I remember the family set we rented in 1981 that had the three terrestrial stations printed above LEDs indicating what you were watching; BBC1, BBC2, ITV1, and in anticipation of a new service, ITV2. Well ITV2 eventually arrived in 1998. In 1982 we got Channel 4 instead. That station finally went national in 2010 when the Wenvoe transmitter went digital. Previously viewers in most of Wales received the Welsh language S4C station instead.
Now we've got digital terrestrial, satellite, cable and a plethora of subscription (often geo-locked) internet television channels. There must be something worth watching? Well there probably is, but finding it is a non-trivial task. When I didn't own a television, I used to make a lot of use of BBC iPlayer, back when it was legal to do so without a television license. Since emigrating, I barely watch any BBC programming. But even back then Sophie Wilson commented that the treatment of subjects on BBC Four barely scraped the surface. Take, for example, "10 Things You Didn't Know About Tsunamis". Well I knew eight of them, and I'm not a seismologist.
As much as I like factual programming, my favorite viewing and what I think television does best is long-form drama. The extended DVD release of "The Lord of the Rings" comes in at just under eleven and a half hours. That's still shorter than the first season of "The Wire". I'm not comparing the two, but if you use the time wisely you can tell a much deeper story with television. The extreme example of this is "Coronation Street", which started out like an Ibsen play that never ended.
Script doctor Robert McKee says that Aristotle's "Poetics" tells you the basics of what you need to know about writing drama. The six required elements in order of importance being: plot, character, thought, diction, music and spectacle. McKee argues that most Hollywood films place those elements in reverse order. It's only comparatively recently that television has embraced narrative storytelling, although early examples include "Columbo" (1971-1978), "M*A*S*H" (1972-1983), "Hill Street Blues" (1981-1987) and "St Elsewhere" (1982-1988).
But on to my list. If you're thinking "oh no, not more endless box sets", most of these shows were miniseries or ran for two to four seasons. At the end of every season, these shows were often under threat of not being renewed. Despite critical acclaim, several of them were canceled due to low viewership. These shows are a mix of documentary and drama in the categories of crime, fantasy, science fiction and situation comedy. They are all thought-provoking, and some were ahead of their time in dealing with issues that are relevant today.
I should make it clear that I'm not getting paid by HBO to write this. But it is the streaming service where you'll find the majority of these shows. The rest are mostly available on Prime Video, but in some cases you'll have to buy the DVD.
Better Off Ted
2009-2010 • PG • 30m
Victor Fresco created "Andy Richter Controls the Universe", which I love but would only recommend to technical writers and illustrators. His workplace comedy is set at an amoral megacorporation that develops products including sensors that can't see black people. The show has been compared favorably to "Arrested Development" and at least two newspaper critics gave its second season a perfect score.
Black Sails
2014-2017 • 15 • 56m
This prequel to R.L. Stevenson's "Treasure Island" isn't for children. It combines characters from the novel with infamous real life individuals from the Golden Age of Piracy. Nick Cave recorded a cover of Leonard Cohen's "Avalanche" for one episode, and it has an awesome theme tune played primarily on the hurdy-gurdy. I may be influenced by having been a marlinspike sailor, but the conclusion (that I won't spoil for you) elevates the show.
Caprica
2009-2010 • 15 • 1h
Ronald D. Moore is known for exploring religion in science fiction in "Star Trek: Deep Space Nine" and "Battlestar Galactica". In a bid to attract a more diverse audience, this prequel to the latter isn't set in space. It explores the ethical implications of artificial intelligence, robotics and virtual reality. With themes of wealth, corporatism and family rivalries, Moore himself has compared it to "Dallas" (which has the weirdest final episode of any prime time soap opera).
The Corner
2000 • 18 • 1h
Before "The Wire", former Baltimore Sun crime reporter David Simon and former Baltimore homicide detective and public school teacher Ed Burns adapted their book "The Corner: A Year in the Life of an Inner-City Neighborhood" into a miniseries for HBO. It tells the real life story of a poor family living in West Baltimore's open-air drug market. The series won three Emmy Awards and provided the foundation for its fictional counterpart.
The Good Place
2016-2020 • 15 • 22m
Following the success of "The Office", "Parks and Recreation" and "Brooklyn Nine-Nine", NBC gave Michael Schur a 13-episode order based purely on a pitch. The show, often referred to in its podcast (always watch the episodes first) as the "smartest dumbest show on network television" balances a thorough exploration of moral philosophy with toilet humor. It has a great solution to the problem of the "Seven Words You Can Never Say on Television", and one of the greatest plot twists in television history (don't read anything about the series before you watch it).
Homicide: Life on the Street
1993-1999 • 15 • 1h
Based on "Homicide: A Year on the Killing Streets", this show answers the question: what would a police procedural written by Samuel Beckett look like? Created by Barry Levinson and Tom Fontana, it had a diverse ensemble cast of acclaimed film and theater actors. It featured André Braugher's career defining role as Detective Frank Pembleton, and the original appearance of Richard Belzer's Detective John Munch. Guest stars included Steve Buscemi, James Earl Jones, John Waters and Robin Williams. It would take a whole book to do the show justice.
Hot Metal
1986-1989 • 15 • 24m
Lately, David Renwick is best known as the creator of "Jonathan Creek". His string of comedy writing credits go back to the 1970s. But he started life as a reporter and copy editor on a local English newspaper. This show is his satire on the British tabloid press at the peak of the rivalry between media barons Rupert Murdoch and Robert Maxwell. Although it is less well known than the later "Drop the Dead Donkey", which was the equivalent for television news, because it's not topical it has aged better.
Luther
2010-2019 • 15 • 1h
Written by Neil Cross as a showcase for Idris Elba's talent, this show combines elements of Columbo and the original Sherlock Holmes. What most of its critics miss is that despite being set in the modern day, it is a fantasy setting. TF1 thought highly enough of it that it commissioned a French verison starring Christopher Bayemi. And Netflix put up the money to make the film that Cross and Elba had always wanted to do: "Luther: The Fallen Sun". Watch the series first, and then look out for nods to "Skyfall".
Max Headroom
1987-1988 • PG • 1h
Spun off from the film "20 Minutes Into the Future" that served as the setup for the music talk show "The Max Headroom Show", this show imagines a dystopian future dominated by television consumption and mega corporations. The "computer generated" image of the artificial intelligence at the center of the show was in fact an elaborate prosthetic applied to actor Matt Frewer. The character became a 1980s pop culture icon.
Oz
1997-2003 • 15 • 55m
The one series on this list that, at time of writing, I haven't actually watched yet. It was created by Tom Fontana while he was still working on Homicide, inspired by an episode of that show. Similar to "Luther", it's set in a fantasy version of reality in what was then the near future. And it stars Ernie Hudson (Ghostbusters) and J.K. Simmons (Spider-Man).
Parts Unknown
2013–2018 • PG • 42m
The pinnacle of chef turned writer and broadcaster Anthony Bourdain's food travelogs. He had tried writing a few mystery novels before having unexpected publishing success with "Kitchen Confidential: Adventures in the Culinary Underbelly" Suddenly he was on every talk show, which he leveraged into his own television career. His first three efforts, "A Cook's Tour", "No Reservations" and "The Layover" have their own charms. But in this show, Bourdain provides the setup and then gets out of the way and lets the subjects tell their own story.
The Sarah Connor Chronicles
2008-2009 • 15 • 1h
This show follows on from the events of "Terminator 2: Judgement Day" and ignores the subsequent films. The title role is played by Lena Headey, now better known for her portrayal of Cersei Lannister in "Game of Thrones". Music was composed by Bear McCreary who scored "The Walking Dead" and several other shows on this list. Summer Glau plays an android sent back in time to protect Connor and her son John.
Satellite City
1996 • 15 • 30m
Like "The Hitchhiker's Guide to the Galaxy" and "Flight of the Conchords", this show started out as a BBC radio series. A brilliant dark comedy set in a fictional South Wales Valleys town. American anthropologist Randy is the viewer's stand-in. That it was never broadcast nationally in the UK I can only put down to English antipathy. I once met the show's creator Boyd Clack in Cardiff, where he advised me that the easiest way to give up smoking was to "take up smack".
Show Me a Hero
2015 • 15 • 56m
Based on Lisa Belkin's "Show Me a Hero : A Tale of Murder, Suicide, Race, and Redemption", the show tells the true story of a white middle-class neighborhood's fight against the building of federally mandated scattered-site public housing in the late 1980s. Oscar Isaac won a Golden Globe for his portrayal of Yonkers Mayor Nick Wasicsko. The cast includes Jim Belushi, Alfred Molina and Winona Ryder.
Tremé
2010-2013 • 15 • 55m
David Simon knew he wanted to make a show set in New Orleans. And then Hurricane Katrina happened. The show follows the lives of residents of the Tremé district as they attempt to rebuild their lives, homes and businesses. It features original music and cameos from New Orleans musicians in every genre. Who knew New Orleans had a thriving death metal scene? And one of the writers was Anthony Bourdain.
Veronica Mars
2004-2019 • 15 • 44m
Before he adapted "iZombie" for television, Rob Thomas effectively created the sub-genre of teen noir with this show. Kristen Bell stars in the title role as a daughter following in the footsteps of her private investigator father, played by Enrico Colantoni. The show was canceled in 2006 after just three seasons. In 2014 a fan-funded film was released which also spawned the show-within-a-show "Play It Again, Dick". Then in 2019, we got the fourth and probably final season.
We Own This City
2022 • 18 • 58m
Based on Baltimore Sun crime reporter Justin Fenton's book "We Own This City: A True Story of Crime, Cops and Corruption in an American City", this is the story of the rise and fall of the Gun Trace Task Force. David Simon, who helped get the book published and adapted it for television, called it "the inevitable coda to the half-century of disaster that is the American drug war." Jon Bernthal who played Shane Walsh in "The Walking Dead" plays Sergeant Wayne Jenkins.