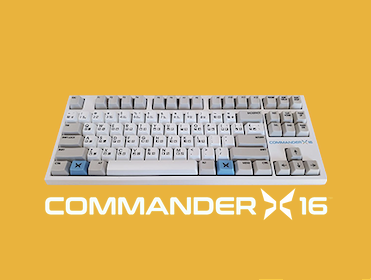 Having previously designed an alternative keyboard for the Mega 65 project, based around a standard ten-keyless layout, a mutual acquaintance put me in touch with David "The 8-bit Guy" Murray who was interested in having a deluxe keyboard as an option for his Commodore-inspired Commander X16 retro computer project.
I worked with the team writing the firmware to develop a layout that was as close to a standard US layout as possible while including the classic Commodore keys and PETSCII graphics characters. I also created the vector art, and this was the first keyboard to feature my left-center-right justification on the three clusters of function keys. To date this is one of the most popular maker keyboards at WASD Keyboards.
The evolution of 8-Bit. Inexpensive, relatable, educational. Unique, not a clone or a sequel. A real CPU not emulation. The modern retro computer.