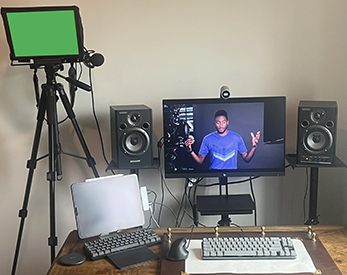 In August 2021, TikTok increased the maximum length of videos on its platform to three minutes. By December 2021 it had overtaken Google, Amazon, Apple, Meta, Microsoft and Netflix to become the most popular website in the world. In response, Google introduced YouTube Shorts and Meta introduced Instagram Reels.
Although I have a bit of radio experience, and I spent several years narrating training videos, the only experience I have of making videos is an activity holiday I went on as a kid. It also involved non-video related outdoor activities such as clay pigeon shooting and canoeing. Well, at least I learned that diet caffeine-free Coke and pond water taste pretty much the same.
But now that I'm a developer advocate, I need to be able to quickly record and edit video content. So after a bit of trial and error, I've put together a video recording studio, complete with green screen. And today I'm going to tell you about the tools I use. Wherever possible, I reused kit that I already had lying around. So if you're getting started in video, hopefully some of this information is of use to you.
"I think short form video is going to do to YouTube what Twitter did to blogs. People will still be making long form video content, it will still get linked to and watched, but short form is so much simpler that there will be so much more of it. [It's] going to win just through sheer weight of numbers… There's a transition happening."—Tom Scott, YouTuber (4.89 million subscribers), educator and web developer.
Studio
I recently moved house. In the old place, I had one of those photographer's frames with a green blanket on it. It was incredibly bulky, and I could never get the creases out of the blanket. This time around, I painted the back wall of the home office with chroma key green paint. It's expensive, but it provides a uniform finish that will give you the best possible results. And it doesn't take up three feet of tripod space in your room.
Lights
The room is small, with a window to the right of the desk. The window has a blackout blind on it if the sun's glare gets too bright. With the back wall painted green, the color tended to bounce around the room, so I bought a cheap spotlight fitting for the ceiling light and fitted a WiZ 100 watt equivalent LED RGB bulb. The bulb connects over Wi-Fi without a hub and enables me to set the exact color and temperature to offset the green.
I also got a pair of LED video fill lights. These are the tall and narrow kind that don't take up too much room when not in use, but can get rid of shadows on the wall. If I'm filming in the daytime, I can effectively use the natural light from the window as a key light. Otherwise, it's a case of "fix it in post". All the lights can be dimmed, and I can adjust the amount of light from the window with the blind.
Camera
The camera is a Nikon D3200 with a Nikkor 50 mm f/1.8 lens that I had sitting around unused from an earlier foray into digital photography. There's a wide angle lens as well, but the 50 mm works better for green screen. It records video in HD (1080p) at 60 frames per second, so the ideal setting is shutter speed at 1/60th of a second and the f-stop down to 1.8 to let as much light in as possible. There's a mini HDMI out for connecting a monitor and an audio in for a better microphone.
I had to buy a new tripod. I have the camera in fully manual mode to ensure none of the settings get overridden. If you don't have an old DSLR lying around, a modern smartphone works almost as well. It's just nice to have the camera permanently ready to go (when the replacements for the decade old battery arrive).
Microphone
For the microphone, I went with the RØDE VideoMic Pro, which I was lucky enough to get on sale. It's a powered mic with noise-cancelling. The best way to use it with the Nikon is to turn down the input a level and increase the output from the mic. This means the audio is synced to the video and shouldn't need any post-production, speeding up the editing process by eliminating the sound clean-up step.
Teleprompter
I'm a writer first, so I script everything. Years ago I used to write my scripts in CeltX, but that's long gone. Now I use Causality. It organizes scripts by story beats, which is ideal for short form video. The free version limits your scripts to ten pages, but that's enough for my purposes. I have a 12" 2018 iPad Pro, which pairs perfectly with the Pafieo S12 teleprompter. For software, I use PromptSmart Pro. There's a free edition, but you have to pay $20 to get screen mirroring. It's worth it though because the text advances through voice recognition. There's also an Android version, but that requires a subscription.
Monitor
I was going to write an entire article on why I got an HP Z24n G2 monitor. What it boils down to is that my old 27-inch Dell finally died after about 13 years of constant daily use. And the largest 1920×1280 (16:10 aspect) monitor that anyone sells now is a 24-inch model. I've always favored 16:10 monitors for their ability to display two A4 pages side, but side, but they are also good for video editing because you get 200 pixels below the video frame to display the editing tools.
The monitor only has one HDMI port and HDMI to DisplayPort converters don't work on old hardware like the D3200, so I have the computer connected over DisplayPort. It also has a picture-in-picture option, so you can see the computer display and camera image at the same time.
Speakers
The speakers (Edirol MA-15D) are driven from the monitor's audio output. I originally got them because I needed speakers that supported digital co-axial. They also support optical, but here I'm using them with a standard 3.5 mm stereo jack. I used to have the speakers on my desk, but sticking them on stands means they are at ear height, which I think is probably better for audio editing. The monitor is also on a speaker stand, but that's because I couldn't find the VESA mount bracket after the house move.
Video editing software
In the past, I've used iMovie for editing video. But last year I taught myself to use Camtasia (by creating an Angel movie that I can't share for copyright reasons). And I'm currently getting up to speed with Premier. Camtasia is definitely the most straightforward forward tool for the kind of content I'm planning to create. But iMovie is perfectly usable and free with every Mac. However, for certain effects, like running a scrolling transcript along the bottom of a TikTok video, I suspect I'm going to have to rely on the more powerful features of Premier.
Final thoughts
Well, I'm all set up and ready to go. I just need to finish working through Marques Brownlee's Masterclass Session, and I'll be ready to start creating content.